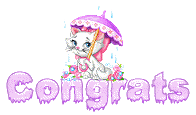 P'Nan!!!
Please msg me HERE to claim the prize.
Sorry for those who did not win. There is always a next time! I hope that in the future I will be able to choose at least 3 winners. If possible, I would give everyone who entered prize.
I will send out the prize on Wednesday, June 13th.
Only day I'm available this month to go to the post office.
Thank you for entering and I hope you'll stay tuned for upcoming posts & giveaways!